Eating for Weight Loss or Eating for Happiness?
What do you think would happen if you stopped relying on external tools to tell you what to eat, when to eat and how much to eat (aka calorie counting, food tracking, points systems etc.)? If your thought process looks like this one you are not alone:
For most, the absence of rules and regulations leads them to believe that the above image will be their fate. But, if restriction really worked, wouldn't we all be thin by now? It is estimated that 57% of women have been on a diet in the past year! In reality, we know dieting/restriction in and of itself leads to that feeling of a loss of control around food. The real progression should look like this: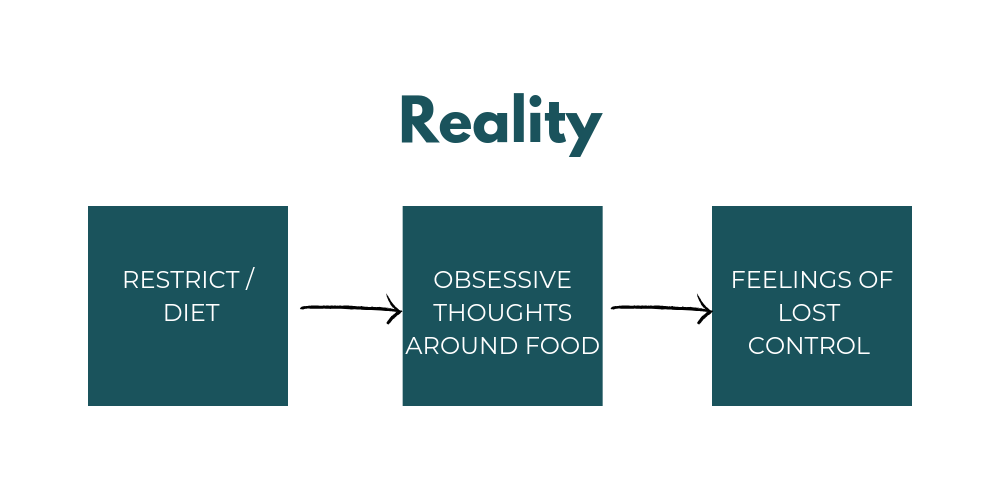 As we learned in our last article Why Can't I Keep The Weight Off, the reason for this progression, is actually linked to our bodies own survival mechanisms. To our bodies, no matter their size, restriction equates to famine. Famine brings on hormonal responses that make us hungrier and increase food seeking behaviour. No, your body does not understand that the latest fad diet isn't a famine. No, your body doesn't understand that the latest "lifestyle change" is not a famine.
Restriction is Dangerous and Damaging
A good way to know if you are ready to stop feeling consumed by guilt around what you should and shouldn't be eating, is if you are able to recognise the less obvious forms of restrictions that may be harming you. According to Evelyn Tribole and Elyse Resch, the founders of Intuitive Eating, recognising and acknowledging the harms dieting and restriction has caused you is the first step to dropping the problematic diet mentality.
Pursuit of Weight Loss can Interfere with your Physical and Emotional Well-being
When has the pursuit of weight loss interfered with your ability to enjoy life? Here are some common examples:
Ordering the less appealing menu item or skipping a night out altogether to avoid the more appealing foods.
Losing weight on your diet, receiving compliments and feeling shame in seeing people when the weight came back on.
Think about the ways dieting has caused you harm. If you are still unsure if you are ready to make the jump away from dieting, here is a quiz to help you decide.
No diets? What now?!
Maybe you're someone who says to themselves, "Hey, dieting really messed up my life, I am ready to leave it, but I don't know what to do next."
This is where intuitive eating comes in. This is an evidenced-based way of eating and it is designed to help you feel better around food. By honouring your health and respecting your internal cues, you honour and respect your body. Starting intuitive eating can be tricky, but we have the resources to help support you. When we start honouring our hunger, quit labelling foods as being good and bad, and most importantly, show ourselves compassion and forgiveness, we can begin to listen to our body's internal cues.
The State of the Science
For a lot of people, the news that "diets don't result in long term weight loss" and that intuitive eating may be a better way to safely support health is a shocker. Who would've known that intuitive eating has over 100 published studies to support its use? Who would have known that scientific literature reviews examining the long-term impacts of dieting, would find that weight loss isn't really related to positive health outcomes.*
That paper, published in 2013 by Janet Tomiyama echoes that of a similar paper that says, "The results for the treatment for obesity are remarkably similar and remarkably poor." ** What the authors meant by that statement: The results of studies examining dieting were similar in that people wouldn't maintain weight loss over time and these results were found in virtually all of the studies the authors examined.
The Futility of Dieting Is Not New News
This was a study done by Stunkard A. et al. in 1959. That's right 1959. We've seen the opposite impact of what dieting is intended to do: the most predictive outcome of dieting being weight regain over time. We see this in long-term review studies of dieting dating back from 1959 to the present. Yet, dieting is still promoted by many healthcare providers.
References
*Tomiyama, A. J., Ahlstrom, B., & Mann, T. (2013). Long-term effects of dieting: Is weight loss related to health? Social and Personality Psychology Compass, 7(12), 861-877.
**Stunkard A & McLaren-Hume M. The results of treatment for obesity: a review of the literature and report of a series. Arch. Intern. Med. 103:79-85, 1959.