Supervision for Nutrition Professionals
Looking to reflect, learn, share and work on your personal and professional development?
Whether it's business, or clinical related, if you're a Registered Dietitian or Nutritionist, I offer 1-hour clinical supervision sessions over video call. In these sessions your job is to come prepared with whatever it is that you would like to unpack together. My job is to hold a non-judgemental space for us to unpack whatever it is you want to explore. You can use the link below to book your slot.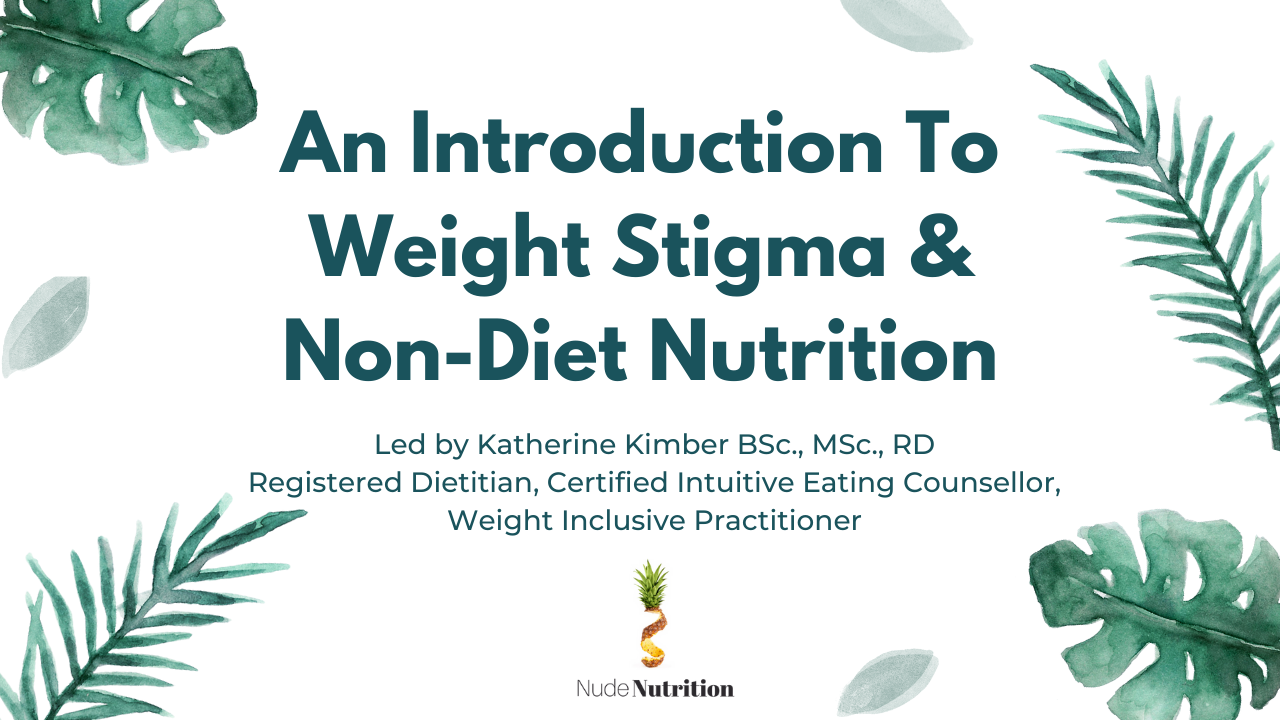 I have chosen to donate 10% of all ticket sales to Black Girls Brunch UK. I have personally received so much benefit from various support communities when growing my business over the last 2-3 years. The disparity between white-owned and black-owned businesses prove that the economy & support systems haven't been in favour of black-run businesses – I would like to offer my support to enable Black people to be supported in pursuing their passions as I have been!
This is a 90-minute Interactive Workshop, providing a crash course in weight stigma and non-diet nutrition for nutrition professionals. It will be run by Registered Dietitian Katherine Kimber.
£45

 Replay £35 
"One of the most interesting & Inspiring sessions, thank you!" – Student, Bournemouth University. 
*When payment has been received, I shall send you the webinar recording, pre-work, workbook, and post course reflective activities within 24-business working hours.
What you can expect
What is it?
In this 90-minute recorded Interactive Webinar with Katherine Kimber (Registered Dietitian), you will:
Examine weight bias and weight-based discrimination, and how it might be showing up in your practice.

Understand the problems associated with weight stigma and weight bias.

Challenge your assumptions about health and weight.

Be introduced to non-diet approaches with a focus on Intuitive Eating.

Receive resources to educate yourself on non-diet approaches.

Go through a clinical case study practice, so you can engage in the practical application.
You will receive:
Course reading & activities for pre and post-session.

A workbook to use alongside the session.

A recorded and interactive workshop-style session 
Who is it for?
This session is targeted towards trainee or Registered Nutritionists and Dietitians, or those who would like to understand more about non-diet nutrition and how to apply this in practice.
IMPORTANT INFORMATION:
I am not able to offer refunds once the re-play has been purchased.

This workshop is open to those over the age of 18.

This workshop will be held over Zoom. You will require an internet connection and a device with a camera and audio capabilities.
About Katherine
Hey! I am Katherine Kimber, a Registered Dietitian and Certifed Intuitive Eating Counsellor. I thought you would like to know a bit more about me, and why I run this session.
I completed my undergraduate degree in Nutrition & Dietetics and a Masters in Clinical Research both at King's College London, graduating in 2013. I worked as a Band 5 Dietitian, Band 6 Specialist Renal Dietitian in the NHS, before moving into a high-end private weight management clinic in west London. This accelerated me into setting up my own practice, and specialising in non-diet approaches and re-training and re-framing the way in which I work with clients.
It's been a rollercoaster, and I have first-hand experience moving from working in a weight centric mode (traditional weight-loss counselling) to using a non-diet approach (taking the focus off of weight and encouraging/enabling health behaviours regardless of body shape/size ). I know how overwhelming and confusing it can be, and I want to support those who are transitioning and wanting to learn more about weight bias, weight stigma, and non-diet nutrition. I now live in Poole, on the south coast of England, and predominantly work with clients on a 1:1 basis via video call, to help them break out of a negative relationship with food.
I look forward to supporting you and seeing you on the inside!