Pocket Course: Stop Overeating & Gain Control
A self-paced online course designed to help you take your power back from bingeing & overeating and to find inner peace & food freedom.
*See FAQ's at the bottom of this page for a note on Trauma, and Eating Disorders before signing up.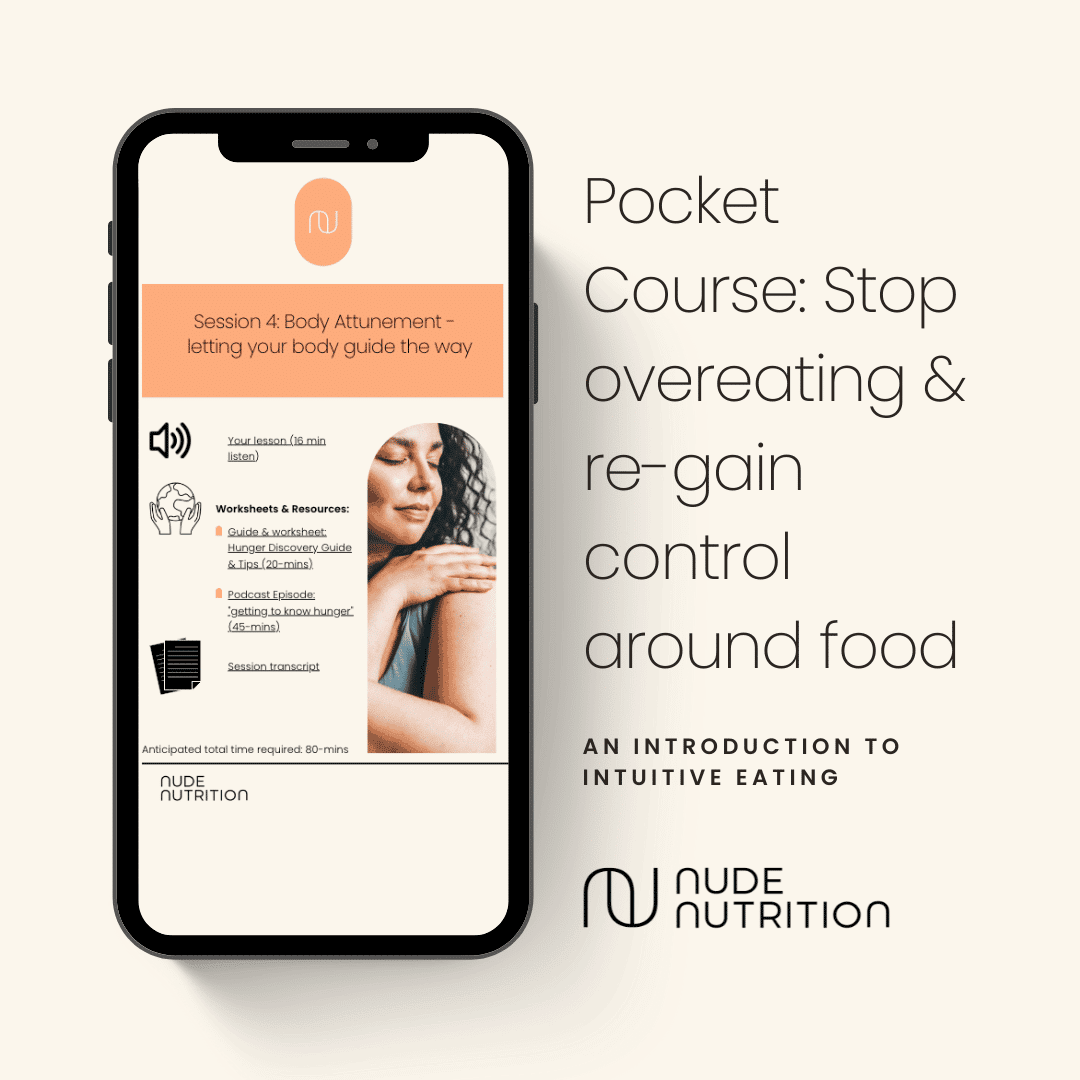 Is the following
relatable
?
"I feel like I have no control around food. I eat all the food until it's gone, even if it means being beyond stuffed" 
"I feel addicted to sugar – whenever I get anything sweet it always seems to become a binge :("
"My issue is cravings and urges to overeat when I'm not hungry"
"Food is always at the forefront of my mind. Not to mention as I've aged and I cannot lose weight like when I was younger."
It doesn't have to be this way…
If you're sick of being at war with food and your body and want to start your journey now to heal your relationship with food… then this pocket course is TRULY for you. 
In this short self-paced course, you will learn
To assess your own relationship with food, understand why you're feeling stuck – what has got you here in the first place.
Be introduced to the principles of the Intuitive Eating, what it is (and isn't) and how it can help you.
Some gentle nutrition guidance to initially help stabilise your eating and help you get out of the cycle and mentality of "starting again tomorrow/Monday".
How to start trusting and letting your body guide the way.
How to identify your food hierarchy, and begin to break food rules and make peace with food so you can feel more safe and in control around all foods.
How to stop overeating, and nourish your body according to body cues and satisfaction.
7 short (10-15-minute) audio guides with education and "how to's" to immediately help you know what simple action you can take (value £150)
Written transcripts of all audio content so that you can re-visit concepts easily (value £40)
My favourite worksheets and carefully selected resources to compliment each audio session to aid learning (value £75)
A total of 7-hours worth of learning, with the audio, worksheets and resources to work through and digest in your own time.
Lifetime access to the content once the materials are downloaded.
Access in your pocket – listen and work through these concepts anytime and place that suits you.
Unique & Limited Offer
On average, working with directly starts at £1080. And this course is worth £240. But for you, it's only £98.
As soon as you register, you will receive an email with all the details and a link that will give you immediate access to all of the content.
*See FAQ's at the bottom of this page for a note on Trauma, and Eating Disorders before signing up.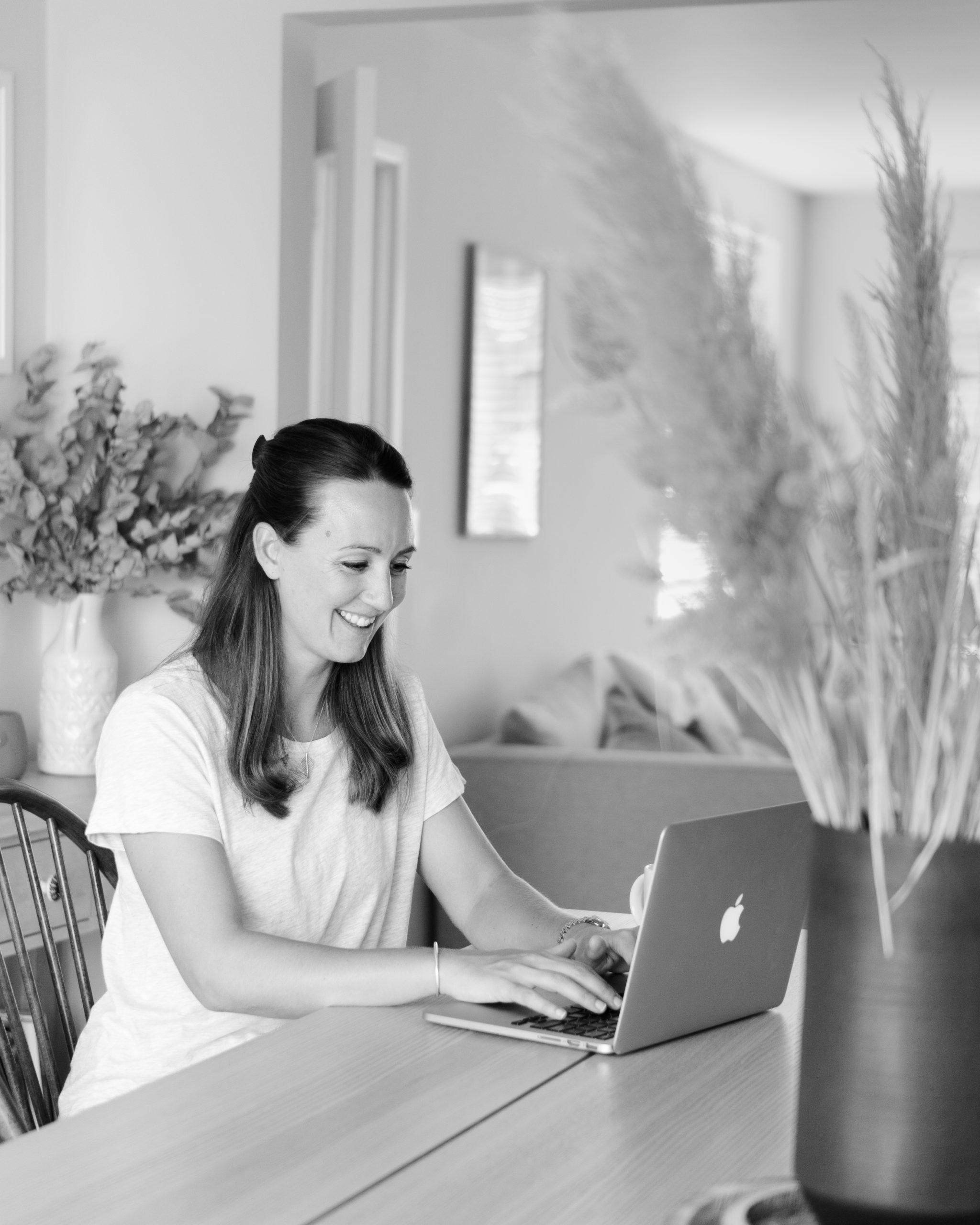 About me
I'm Katherine, a Registered Dietitian and Founder of Nude Nutrition on a mission to help people to find food happiness!
Aside from my personal experiences of having a negative relationship with food, I have completed an extensive amount of formal education and training.
When I was stuck in the diet cycle for a decade, I wished there was an affordable, nonsense-free solution I could turn to.
Created by someone who deeply understood what I was going through.
And someone qualified to give me the CLARITY I needed to stop overeating, and help me gain that control.
I wanted support at an affordable price. And something with practical solutions that I could work through at my own pace.
This is exactly WHY I've created this pocket course.
For you to finally understand why you feel out of control, and BREAK FREE from food controlling you.
Don't just hear it from us…
Hear from our clients to see how our approach has changed their lives.
"Food freedom really DOES exist! Kat's service has genuinely been life-changing. Her approach is empathetic and cohesive".
From an 8 year battle with "binge eating", to "my life no longer revolves around food".
Miss G – "Reclaim Your Intuition" + ongoing support
Sarah thought she was addicted to sugar, mostly chocolate. So much so, she was going to spend thousands of pounds to go to a sugar addiction rehab centre, leaving her 9-month-old son behind. Her eating habits were out of control, and her weight was increasing rapidly. She thought a Dietitian would just tell her what to eat and was hesitant… however, realised this is far from the truth! She has now realised she does not have an addiction, now has normalised her eating, she now eats less chocolate, has more structure, more awareness, is more in tune with her natural hunger signals.
Miss M – "Reclaim Your Intuition" programme
From a lifelong battle with binge eating, dieting, and an attempt to end her life earlier this year because of it, to be able to look forward to social occasions without agonising over menus, being more present with friends and family, feeling less isolated, and a sense of absolute freedom around food.
"This programme has changed my life".  
Mrs P – "Reclaim Your Intuition" + ongoing support
Will this really work for me?
I know it can be the scariest thing to start making change. You might think you're lazy, weak, or "unfixable."And I promise you're not. Just like hundreds of clients who made peace with food using an evidenced-based approach…You too can unlearn, relearn, and make progress. You can kickstart your journey to recovery. You deserve to become happier, enjoy life more, and have a peaceful life that's true to yourself. It happened for me. It happened for hundred others. It will happen for you.
How long will it take?
There are 7 x 10-15minute audio guides to listen to, as well as worksheets. I would recommend setting aside on average, 1-hour per module. So there are approximately 7-hours of learning in total. You're just 7-hours away from big change. The contents will all be accessible immediately, so it's yours to digest at any pace that feels good for you.  What are you waiting for?
What will happen after I finish the course?
Throughout the course, you will receive resources and direction for continued support and learning. You will also get access to a discounted 1:1 session with Kat where you can run through anything that you feel needs a deeper dive.
Why should I take this course?
We know that it's a stretch to find someone who is qualified and experienced to find the right support. It's often inaccessible to get access to 1:1 support due to high costs or long wait lists. With this course, you can move at your own pace, and get started right away. My clients live happier and healthier lives because food no longer holds them back.  This makes food a LOT easier, normalised, healthy, and sustainable. We hope to help you achieve this, too.
Will I get my money back if it doesn't work?
If, after purchase and download of courses you are not happy with the information provided, or feel you have clarity on what has been promised, we are under no obligation to offer a course refund. In some circumstances, and at our discretion, we are able to provide a refund if it's within 30days of your purchase. If you are not happy with the materials, please email [email protected] with the problem that you're experiencing and we will work together to support you with an appropriate solution.
* Is this suitable if I have an eating disorder? (and a note on Trauma)
This series is intended as a reference only and should not replace individual advice from a healthcare professional.
Nutritional needs vary from person to person, depending on age, sex, health status and total diet. This series is also not appropriate for people with active eating disorders; if you are suffering from an eating disorder, or have suffered from one in the past you must have express permission from your GP or care provider to embark on this series.
Some parts of it (like hunger body scanning) might not be appropriate for you. Although this course is intended to help heal your relationship with food and eating, for some it may be triggering for any underlying disordered eating – if at any point you feel you are unduly suffering, you must seek the appropriate care from a healthcare professional.
A note on trauma: Trauma is the result of our nervous systems being overwhelmed by experiences that we are unable to tolerate and process. This can be the result of a single life-threatening event, or of repeated stressors accumulating over time. One technique used in one of the sessions of this series is a body scan. During this practice, I invite you to bring your attention to your body sensations in a methodical way. This is a great tool to develop sensitivity and self-awareness. However, as we sensitise ourselves to our bodies, we may end up encountering previously unconscious trauma. If this is of particular concern to you, you may wish to skip this step in the series, or to come back to this series after seeking the support of a trauma-informed expert. Although this course is intended to help heal your relationship with food and eating, for some with a history of trauma, it may be triggering. 
By paying for and signing up for this series, you are acknowledging and agreeing to the above.
discover a happier,
healthier version of you
Feeding you the latest fad-free
non-diet health and nutrition support
Our regular emails are filled with freebies, actionable tips, resources and insights on
how to improve your relationship with food, that you won't find anywhere else!